Senior Movement Therapist Workshop ~ Gaby Rosenberg April 8 & 9th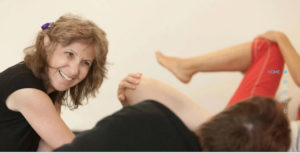 AN INTRODUCTION TO THE MOVEMENT METHOD DEVELOPED BY INTERNATIONAL MOVEMENT SPECIALIST, GABY ROSENBERG.
A workshop for teachers, trainers, alternative
therapists, physiotherapists and dancers by international movement specialist.
Some of the things we will focus on during the workshop are:
• Widening our anatomical and physiological knowledge base.
• Understanding the human posture and correct movement for your body..
• Finding a new way to view disabilities.
For registered bodywork therapists & Yoga teachers – Participation in this workshop counts towards your annual CPD (professional development) points.
Ie. Yoga Australia, ATMS, AAMT.
Every lesson includes experiencing a practical movement theme, 
integrated with theoretical background.
The workshop aims to enable a broader, deeper and safer approach to movement. It will incorporate work with music and rhythm, when the movement develops into dance.
Dates: April Sat 8th and Sunday 9th 2017
In the Shakti Yurt Temple at Divine Nature Sanctuary.
The day will include a lunch break. Aryvediic Vegetarian lunch will be provided.
Investment: $150 early bird March 24th
Pre registrations essential, as we can only have a limited number of participants, 12 max, already 4 confirmed.
Magic in Movement Workshop with Gaby Rosenberg
For more details speak to Alona Rosenberg 
0424476767
Gaby Rosenberg is a Movement therapist, owner of a private studio in Tel-Aviv, Israel for over 35 years.
B.eD Degree of sports injuries and posture displacement, Wingate institute.
M.P.H Degree of Public health and community medicine, school of medicine, the Hebrew university, Jerusalem.
Graduate of Health and Active education, Seminar Hakibutzim.
"Machshevet Haguf" (Body Cognition) Therapist.
Expert of diagnosis of posture displacements, and wrong movement patterns.
Expert at treating early stages of scoliosis, in early adolescence.
Therapist of vertebral column pathologies and joints injuries.
Certification in essential oils and aromatherapy.
Certification in kinesiology and energetic healing.
For more details about Gaby Rosenberg, please see her website.