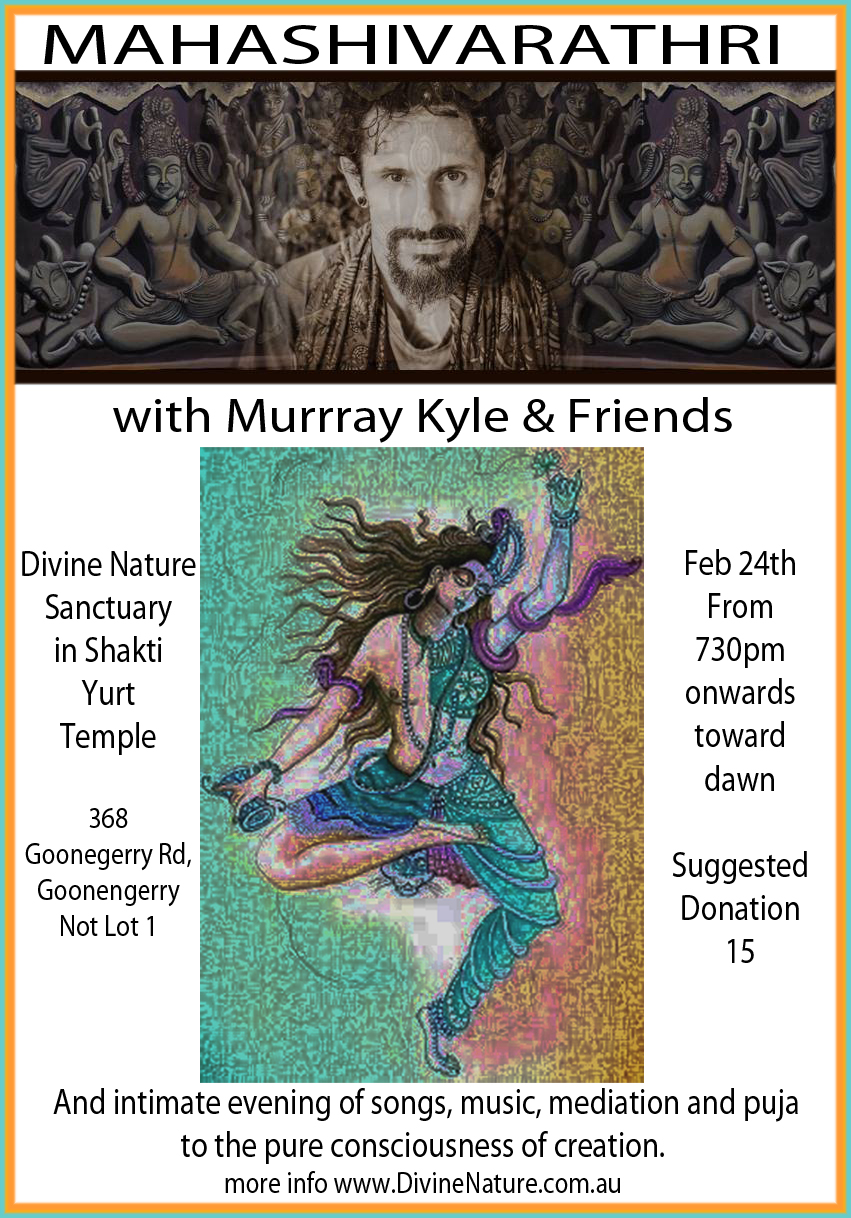 Mahashivarathri with special guest Murray Kyle & friends FEB24
Mahashivarathri celebration with Murray Kyle and friends.
On the dark moon Feb 24th, we invite you to an evening of devotion to Shiva. Considered to be the most potent time of the year to connect to the energy of Shiva, we will begin the evening with a Shiva Lingam Puja, by Daniel. Then we'll co-create a juicy intimate evening of chanting, songs, music, story and mediation to the pure consciousness of creation into the night, and see where the energy takes us. Om Namah Shivaya
Contribution $15
Due to a large number of people RSVP'ing and limited space's we are taking online bookings. To reserve your spot, please book here via Paypal.
Where – Divine Nature's Shakti Yurt Temple, 368 Goonengerry Rd, Goonengerry, 5 mins on from Crystal Castle, 10 mins from Mullumbimby, next property on Left after the hall. Please park in the orchard, and short walk past the stream to the Shakti Yurt Temple.
Divine Nature's Sanctuarys' Shakti Yurt Temple is a dedicated space for Divine Community events, Bhajans, Kirtan, Yoga, Sound Healing, Dance, Puja, Ritual, Ceremony etc. Held within Mother Nature's forest, Divine Nature has running streams along three directions, the Shakthi Yurt Temple has great acoustics, a pot belly hearth. There is also a separate Healing Temple for individual sessions available from a variety of Holisitic Healing modalities and workshop hire.
"A temple collects energy from nature and chanting. This energy radiates as wisdom and peace reaching out to humankind."
Blessings of love and peace xo