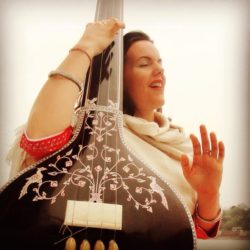 Puja/Kirtan with special guest Anandra George
Sashini, Daniel and Jyoti will be arriving home from their Indian pilgrimage and look forward to singing with international guest, Anandra George.
Come and experience the grace of Anandra's kirtan prior to her upcoming workshops, Heart of Sound, at Divine Nature Sancutary https://www.facebook.com/events/1199659036771312/
Anandra is a highly respected international teacher of the yoga of sound. She is dynamic, devotional, full of deep practical wisdom, rare-to-find details, and is seriously fun! She is from Hawaii, teaches frequently in Tokyo, and currently lives, sings, and teaches at an Indian ashram at the personal request of one of India's most revered saints. After 20 years of practice and teaching, she created the world's first 200-hour RYT focused entirely on the transformational power of sound. To find out more visit Anandra George's website http://truefreedomcoaching.com/

KIRTAN is a powerful and beautiful experience – we sing from our hearts and lose our minds to freedom and devotion as ONE
Arrive 6:30 for 7pm start – 9ish
For the lovers of honouring the Divine within all things, enjoy the incredible practice of praising and repeating Divine's names in Sankirtan (communtiy chanting) with music to soar the heart wide open. Said by many masters to be easiest and most enjoyable spiritual practice, bringing devotion, the sweetest of all nectars, to soothe the soul, bringing all goodness and the true meaning.
By Donation – Suggested 15 or 10 concession ~ part proceeds funding a charity in India.
Divine Nature's Sanctuarys' Shakti Yurt Temple is a dedicated Temple for Divine Community events, Bhajans, Kirtan, Yoga, Sound Healing, Dance, Puja, Ritual, Ceremony etc. Held in Mother Nature's forest, Divine Nature has running streams along three directions, the Shakthi Yurt Temple has great acoustics, a pot belly hearth and a separate Healing Temple for individual sessions available from a variety of Holisitic Healing modalities. Its only 10 minutes from Mullumbimby and 5 mins past the Crystal Castle.
Where – Divine Nature's Shakti Yurt Temple, 368 Goonengerry Rd, Goonengerry, 5 mins on from Crystal Castle, 10 mins from Mullumbimby, next property on Left after the hall. Please park in the orchard, and short walk past the stream to the Shakti Yurt Temple.
"A temple collects energy from nature and chanting. This energy radiates as wisdom and peace reaching out to humankind." Sri Sakthi Amma
To find out more about Divine Nature, please see www.DivineNature.com.au
Kids welcome, all welcome.
Part proceeds going to the charity Beloved Narayani Inc. which funds orphanages, children's heart surgeries, food donation, tree planting initiatives, daily prayers for peace and many other humanitarian projects of Sri Narayani Peedam including, Green Shakthi, a tree planting and education initiative. Costing around $1.50 to raise a tree to maturity. 500,000 trees planted annually. www.greensakthi.org
Each evening we will provide for your enjoyment sublime devotion. You are welcome to sing, clap dance or simply sit back and enjoy the uplifting, trans-formative sounds of the ancient sanskrit mantras and music. It really is such a treat and worth testing the waters if you haven't already!!!! It's truly a blessing to be able to attend a kirtan and then even more-so to participate…
Peace and love to all
Om Namo Narayani
(I surrender to Divine)