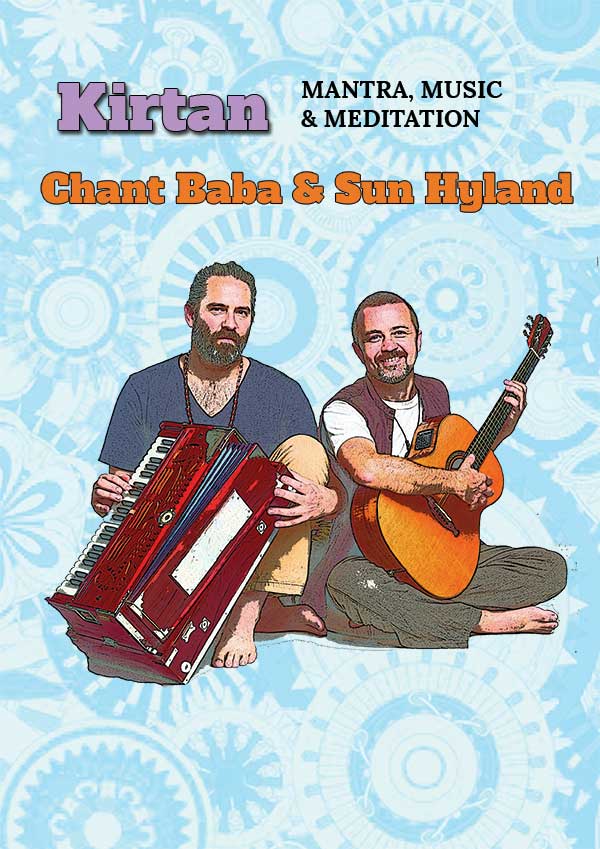 Chant Baba and Sun Hyland Kirtan Saturday June 3rd
Kirtanists Chakradhyan and Sun Hyland bring together yogic tradition and soulful grooves to take you on blissful journeys of mantra and song.
Sat 3rd June.
Doors open 630pm for 7pm start.
Chakradhyan (Chant Baba)
Chakra is the founder of the Chant Yoga – Kirtan and Sound Meditation School in Melbounre, which trains students in the art and practice of kirtan, nada yoga (yoga of sound) and mantra. He has over 15 years dedicated experience in yoga, mantra and meditation practice.
Sun Hyland
Sun is highly accomplished musician. He has led & hosted chanting events and singing workshops for the last seven years and is passionate about making the joy of singing accessible to all. He combines a background in acoustic soul and reggae, a genuine devotion to yogic practice and powerful, sweet vocals to bring something wonderful to your experience.
This is a unique intimate opportunity to sing together in sacred space with Chakra and Sun Hyland, two great souls who are paving the kirtan movement in Melbourne
Divine Nature Sanctuary is super honoured to be hosting another high quality evening of blissful kirtan in the Sakthi Yurt Temple, Jai Ma!!!
Chai and bliss balls available from 630pm.
All welcome, no experience necessary!
Location:
Sakthi Yurt Temple, Divine Nature Sanctuary
– Adress: 368 Goonengerry Road, Goonengerry, NSW. 2482
(5 mins from Crystal Castle, 10 mins from Mullumbimby, 25 mins from Byron CBD)
Entry fee 15 $ Presale, 20 $ at the door unless sold out.
~ PLEASE NOTE: This is an intimate gathering, there will be only 45 spaces available at this lovely venue in the foothills of Byron Bay. Children free.
BOOK TICKETS HERE:
Parking Directions.
Coming from Mullumbimby, 368 Goonengerry Road, Goonengerry, next property on left after the hall, with RED & GOLD FLAG. Please park in the orchard (mind the saplings) and short walk past the stream to the Shakti Yurt Temple. Cushions provided.
About the Sakthi Yurt Temple
Divine Nature's Sanctuarys' Shakti Yurt Temple is a dedicated space for Divine Community events, Bhajans, Kirtan, Yoga, Sound Healing, Dance, Puja, Ritual, Ceremony etc. Held within Mother Nature's forest, Divine Nature has running streams along three directions, the Shakthi Yurt Temple has great acoustics, a pot belly hearth. There is also a separate Healing Temple for individual sessions, available from a variety of Holisitic Healing modalities and workshop hire.
"A temple collects energy from nature and chanting. This energy radiates as wisdom and peace reaching out to humankind." Sri Sakthi Amma
The doors will be open from 630 pm